Art from around the world, Australia, New Zealand, Bali, Europe & the USA.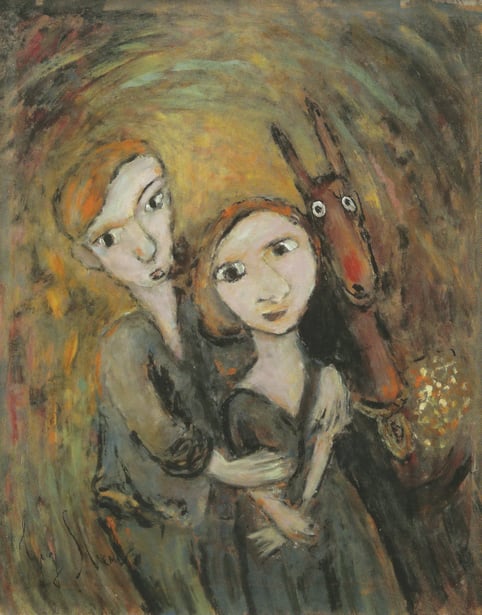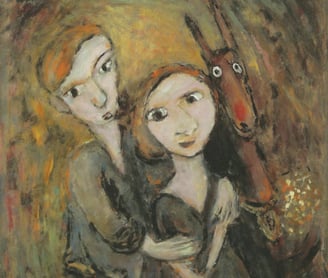 Garry Shead. 1942
In 1993, Shead completed a series of paintings based on D.H. Lawrence's book Kangaroo, that emerged after he came across letters by D.H. Lawrence on an expedition to the Sepik Highlands in Papua New Guinea in 1968.
Shead was awarded the Archibald Prize in 1993 for his portrait of artist Tom Thompson. In 1995, he turned his humorous and satirical eye to Australia's relationship with Queen Elizabeth II.
"Although Garry Shead consciously locates his work within the formal, thematic and technical strategies encountered in the art of the European masters ù Rembrandt, Vermeer, Velasquez, Chagall, Dali and Picasso, the paintings themselves ƒ explore a very localised and specifically Australian reality." (Ref: Dr Sasha Grishin, 2001)
In 2004 he was awarded the prestigious Dobell Prize for Drawing for his diptych Colloquy with John Keats. Shead has held over fifity solo exhibition and included in more than seventy group shows. His work is represented in the National Gallery of Australia, all state galleries, many regional galleries and numerous private and corporate collections, both nationally and internationally.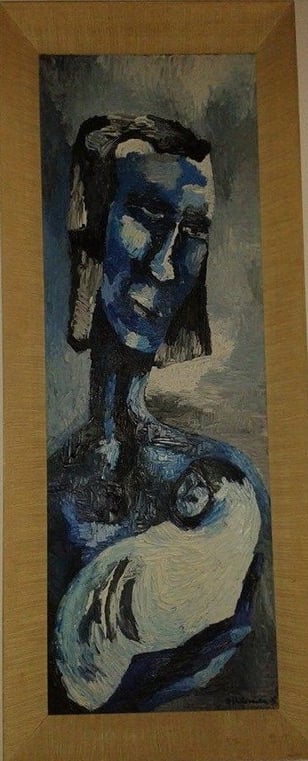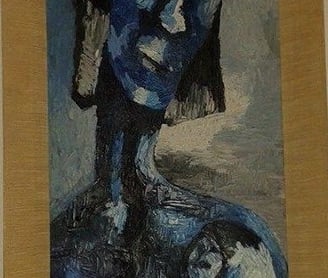 Ruth Unerman. 1920
Born in Oak Park, ILL, USA.
Artist, teacher and gallery director, she studied at Illinois Uni, she has exhibited her work at several shows in the USA.
Chicago has long been noted for creative art and creative artists. Fantastic mid century oil on board by Chicago artist Ruth Unterman. This striking painting, in its original frame measures 42" x 17" inches, painted in heavy impasto with lovely shades of blue. The painting is signed and dated 1957 and was exhibited in the 1958 Chicago Artists Exhibition. It's labelled to the back with its title 'Mississippi Madonna'. A really stunning vintage painting.
Mississippi Madonna, Oil on board, 42 x 17 inches.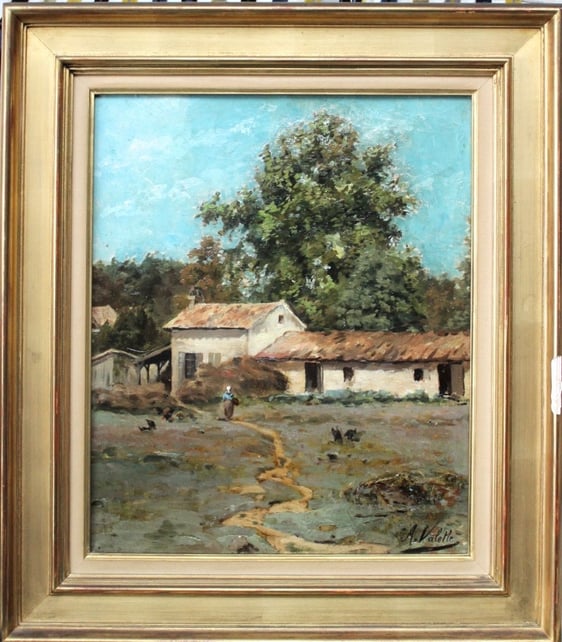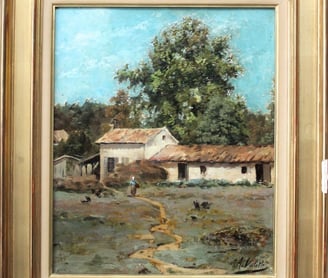 Adolphe Valette.1876-1942
A very rare and very early work by Adolphe Valette, "Woman & Chickens before Cottage" executed before he came to England in 1904 and hsowing his traditional training as an artist. The work is signed and in its original frame.
Adolphe Valette (1876-1942) was born in the industrial town of St Etienne, France and came to England in 1904. He settled in Manchester and studied at the Manchester School of Art where he later taught from 1906-1920. Amongst his students was LS Lowry.
Title: "Woman & Chickens before Cottage"
SIgnature: Signed lower right
Medium: Oil on original canvas
Size: c. 18 x 15 inches unframed 24 x 21 framed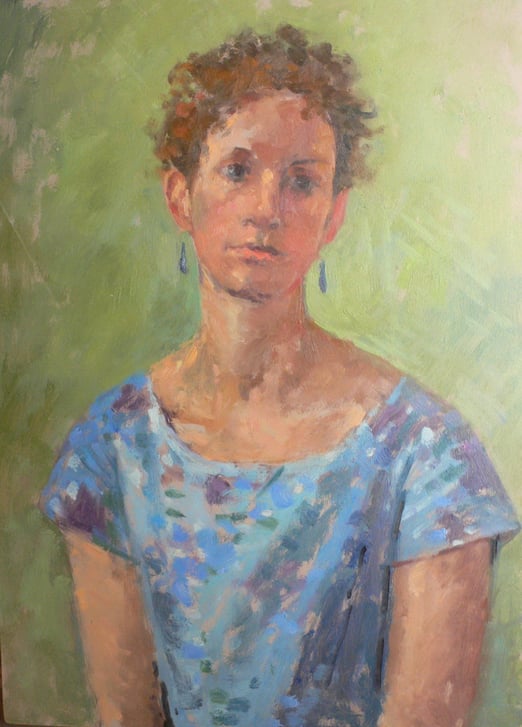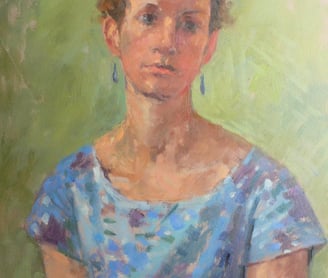 Anthony Baynes 1921-2003
mural painter and illustrator, was born in New Zealand but studied at the Slade School of Art, partly during it's wartime relocation to Oxford, where his fellow students included Kyffin Williams and Bernard Dunstan. He executed mural decorations for Portsmouth town hall, the naval barracks in Portsmouth and Plymouth, and elsewhere. Working principally in oil and gouache he produced landscapes, portraits and decorated furniture, as well as designs for book-jackets for the publishers John Murray, Jonathan Cape and Eyre & Spottiswoode. His work combines Grecian fantasy (in the manner of Rex Whistler) with a neo-romantic style similar to the work of John Minton and John Caxton.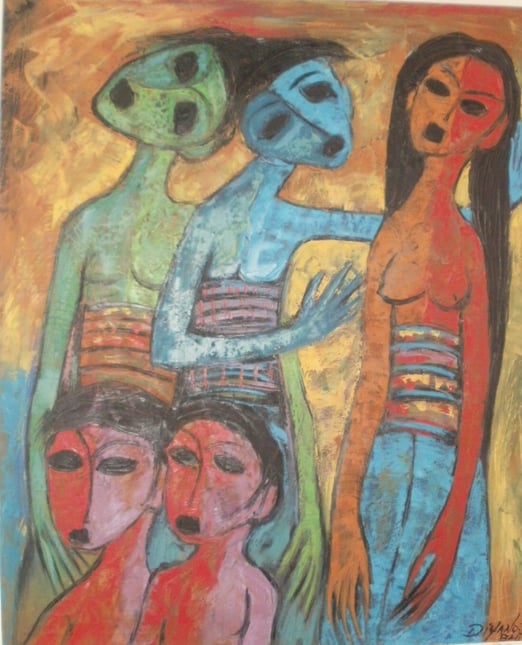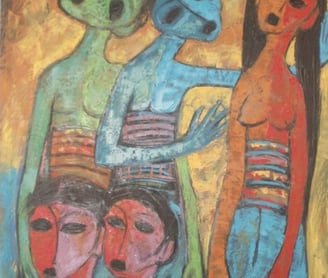 Diyano Purwadi 1971
Born in 1971, Diyano Purwadi attempts to capture his experiences as an artist, his environment and understanding of the world through the human figure. Often his works depict Human subjects as social creatures, and the human condition of 'happiness', 'dreams' and 'craziness'.
The strength of Purwadi's work lies in his ability to point out discrepancies and problems of Indonesian politics, economy and culture, using symbols and metaphors in his work. Using expressive exaggerations of the human figure to comment on the socio-political, cultural and social psychological Indonesian situations, his work reflects a clever, subversive and honest interpretation of Indonesian society.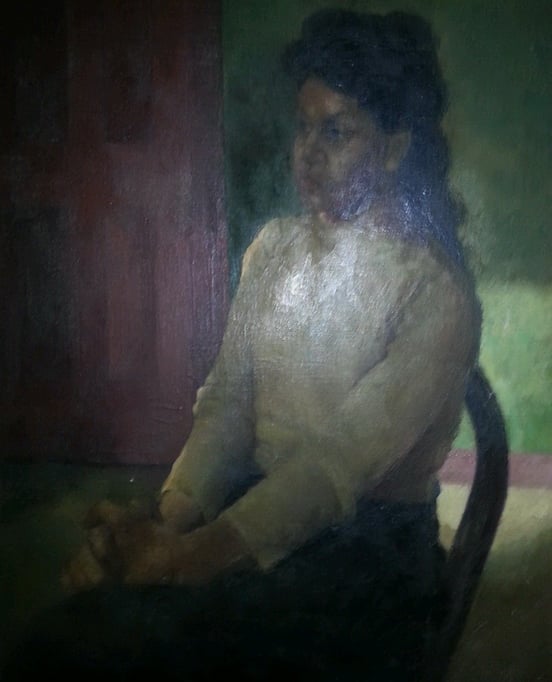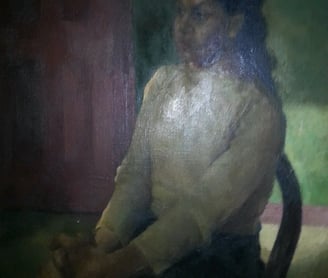 Cecile Crombeke. 1921-2002.
Crombeke was born in Bristol. Following service in the Womens' Auxiliary Air Force during the Second World War, she was awarded a scholarship to the West of England College of Art where she qualified in 1950. She specialised in portraits mainly of 'ordinary people '. However when painting Auberon Waugh, she was offered an introduction to his godfather, Lord Longford. This introduction was followed by five sittings, which resulted in his portrait, which was completed after the sittings but never seen by Lord Longford – it was unveiled on 27 January 2010 at a reception hosted by the Lord Speaker in the House of Lords.
Other portraits by Cécile Crombeke include mountaineer Chris Bonnington, former Home Secretary Lord Robert Carr, and Nobel Prize winning chemist Dorothy Hodgkin.
She painted many landscapes in the countryside surrounding her home. She exhibited widely throughout her career, including at the Royal Academy and the Royal Society of Portrait Painters.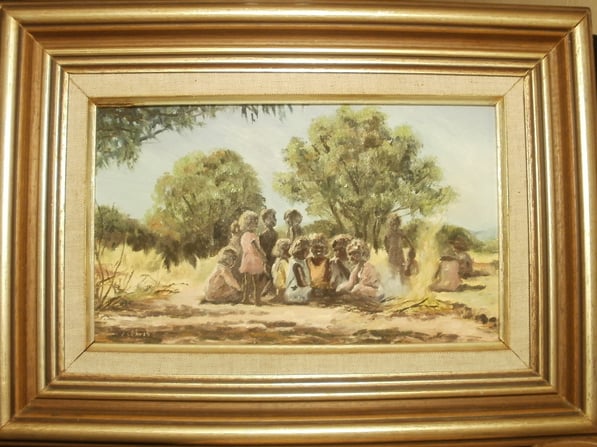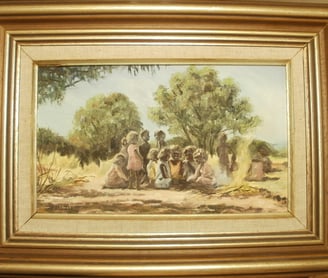 Jennifer Lewis Beechey.
This is an oil on board painting signed by Jennifer Lewis Beechey called ' smoko' Narbethong Mudgee.
Measures 24 x 14.5 cm
An extract taken from Australian Paintings reads. Her feeling for the beautiful Australian landscape and its animals is reflected in Jenny's work for which she has won many awards through out Australia.
Jenny's paintings hang in private collections in the USA, Canada, Japan and many more around the world, and are in strong demand in galleries in Sydney.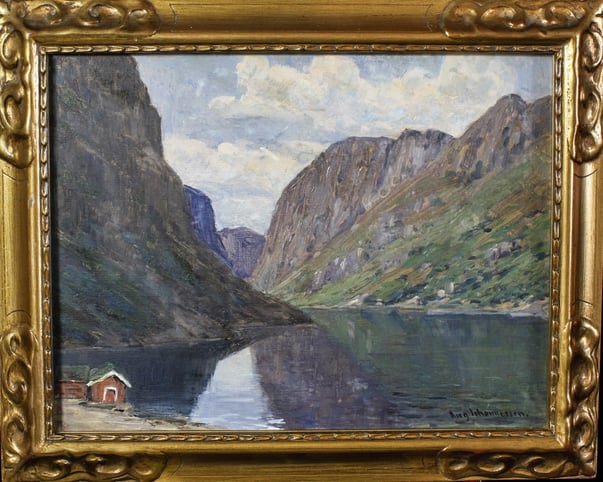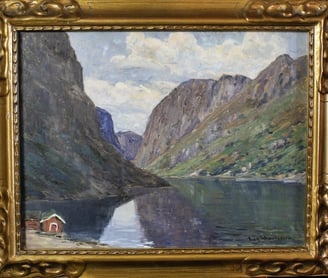 August Johannessen 1866-1944.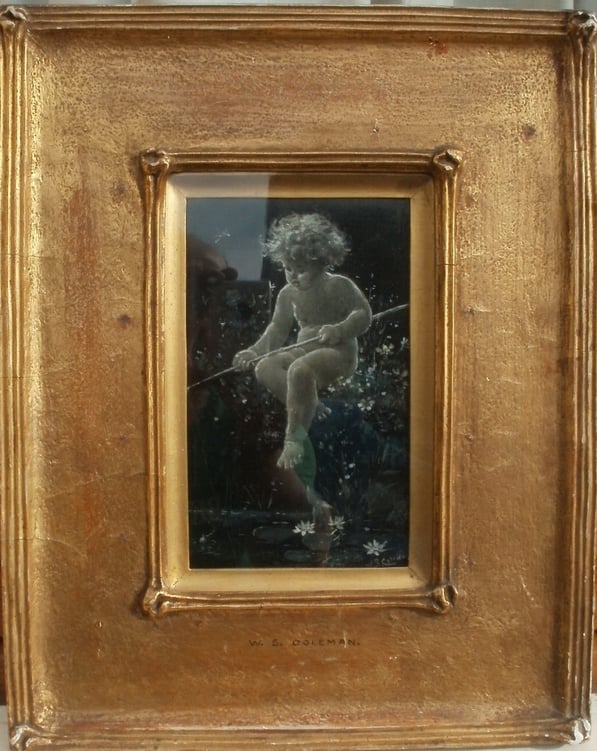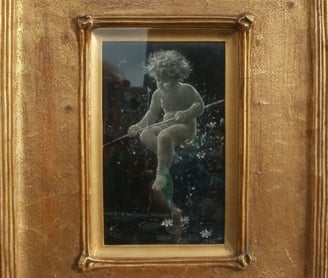 William Stephen Coleman. 1829-1904
Coleman was unsuccessful in a career as surgeon, and turned to natural history illustration. He painted in watercolour, mainly landscapes with figures, in a style with something in common with Birket Foster, and semi-classical figure subjects, related to those by Albert Joseph Moore. His classically-influenced works placed him in the "toga and terrace" or "marble school" with George Bulleid, W. Anstey Dollond, Norman Prescott-Davies and Oliver Rhys.
Coleman also executed etchings, occasionally worked in pastel, and painted in oil. He was a member of the original committee of management of the Dudley Gallery, contributing to the first exhibition in 1865. He continued to exhibit till 1879, and remained on the committee till 1881. In 1869 Coleman began to experiment in pottery decoration; the Mintons Art Pottery Studio in Kensington Gore was established under his direction in 1871, and he executed figure designs for Mintons ceramic ware. He died after a long illness at 11 Hamilton Gardens, St. John's Wood, on 22 March 1904. His widow survived him.
Putti Fishing, Signed lr, lovely item, in it's original frame, exhibition piece, measures 9 x 5 inches, the painting is behind glass.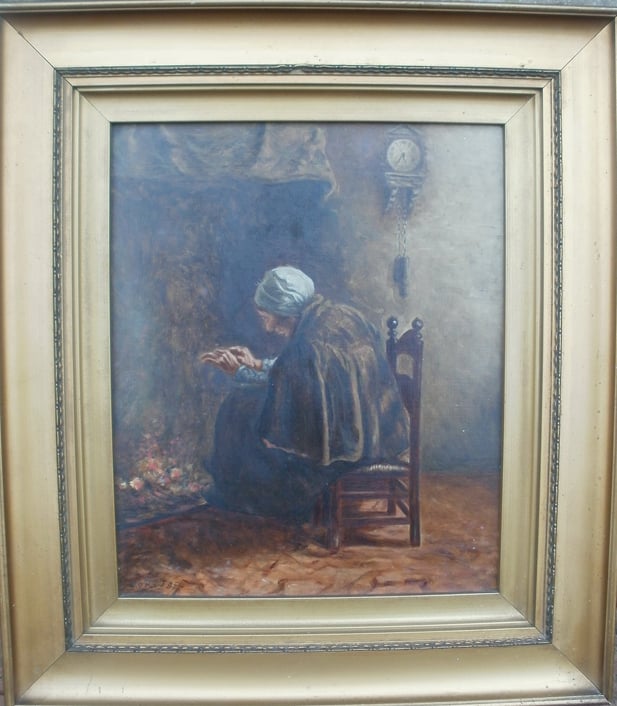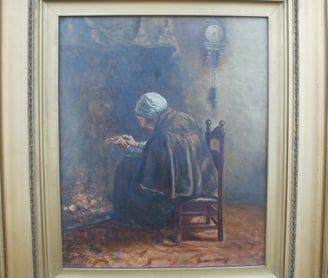 GEORGE OGILVY REID RSA. 1851 - 1928
George Ogilvy Reid was born at Leith and started out as an engraver before enrolling at The Trustees' Academy. Known as a painter of eighteenth-century social life, he also produced land- and sea-scapes. In October 1891 Reid received a royal commission for a painting of the baptism of a grandson of Queen Victoria at Balmoral, a sketch of which is at the National Galleries of Scotland.